Posted on
𝕃𝕖𝕥'𝕤 ℍ𝕠𝕤𝕥 𝕒 ℍ𝕠𝕝𝕚𝕕𝕒𝕪 𝔾𝕚𝕣𝕝𝕤 𝕊𝕝𝕖𝕖𝕡𝕠𝕧𝕖𝕣!
Winter, the season of love and apple cider! What's better than a girls night in with white elephant gift exchange and some cocktails on the side? The end of the year brings a unique opportunity for a themed ladies night and we have the perfect product to offer to you and your squad. Let me tell you a little about our best-selling pj's. They are super, comfortable, stylish, and totally instagram worthy!
At Blossom & Syrup, we have a total of four kinds of pajamas. They are just so cute for your special holiday party, or even an engagement party!
Let's pick out some pajamas for you and your girlfriends, brides, and bridesmaids.
1-Short Sleeve Shorts PJs
2-Long Sleeve Sleep Shorts PJs
3-Long Sleeve Pants Sleep Shirts 
 4-How to make this evening even more special?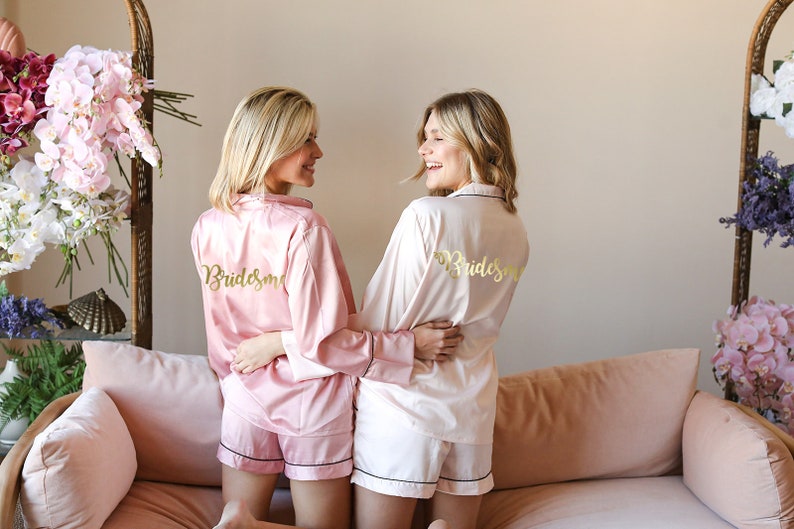 At Blossom&Syrup, we have customization option for our customers. Every purchase can be personalized with a variety of fonts and colors to choose from. Just tell us your name and we'll deliver it to your hand. 
𝐒𝐨 𝐰𝐡𝐚𝐭 𝐚𝐫𝐞 𝐲𝐨𝐮 𝐰𝐚𝐢𝐭𝐢𝐧𝐠 𝐟𝐨𝐫? 

🌸🌸 𝐀 𝐥𝐢𝐭𝐭𝐥𝐞 𝐠𝐢𝐫𝐥𝐬 𝐏𝐉 𝐩𝐚𝐫𝐭𝐲 𝐧𝐞𝐯𝐞𝐫 𝐤𝐢𝐥𝐥𝐞𝐝 𝐧𝐨𝐛𝐨𝐝𝐲. 🌸🌸